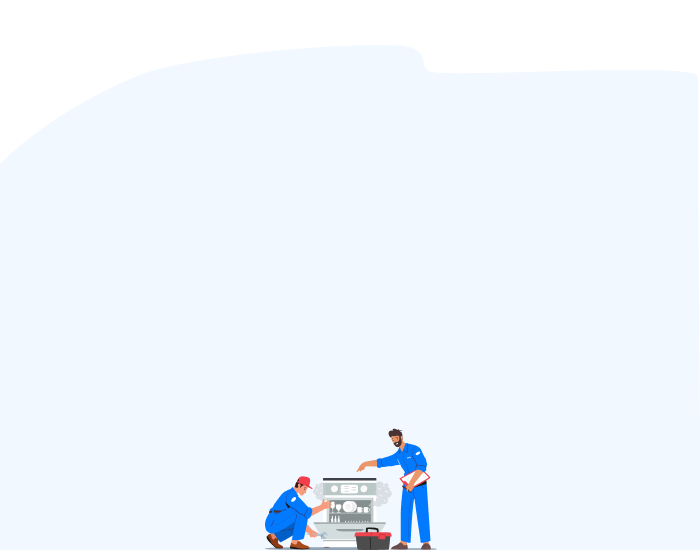 Dishwasher repair services in Orlando, FL
We offer professional and prompt dishwasher repair service in Orlando, FL at a great price. No service delays or repeat repairs.
A dishwasher fault should be worked on as fast as possible so that you can get back to your automated schedule. Nobody likes a ruined schedule, and we're here to make sure you're able to continue with your activities for the day while we handle the repairs.


Select the dishwasher issue we can help you with
Select the service you need, a suited timeslot and our technicians will be at your doorstep as early as today!
Client reviews in Orlando, FL
My technician went above and beyond to ensure my washing machine was operating properly. He was early, professional and very knowledgable. Thanks for the excellent service!
Laura R.
About Puls dishwasher repair in Orlando, FL

At Puls, we aim to give our customer quality services. For many years, we've delivered expert and affordable repair services to customers. We are renowned for our fast, quality, and durable repair service. Our customers leave good reviews, thanks to our fast response, and quick and long-lasting repairs.

If you need a dishwasher servicing or repair, book an appointment with us and we will assign an expert dishwasher technician to you in minutes. Our technicians can service all makes and models and they have all the necessary tools, equipment, and spares at bay. This will help to reduce the amount of time spent on repairs. On occasions where OEM parts are needed, we will source for them on your behalf at the best markets offering the best price. We operate all over Orlando, FL.

Schedule an appointment for a same or next-day repair service.
We perform the following dishwasher repair services throughout the Orlando, FL area
With our superb repair service, we'll have your dishwasher up and running in no time.
Dishwasher repair deals in Orlando, FL
Getting your dishwasher fixed is as easy as a click. It's reliable and affordable too
ENJOY
dishwasher repair
Book now
FAQ about dishwasher repair services in Orlando, Florida
We can help you with your dishwasher repairs and services. Book a service with Puls.
How does dishwasher repair service with Puls work?
You can get a Puls technician in Orlando, FL with a call, through our website, and the app. Schedule an appointment and a local dishwasher technician will be assigned to your home to fix your dishwasher problem.
What is the average cost for dishwasher repair service in Orlando, Florida?
You will get a free price estimate when your assigned technician diagnoses your faulty dishwasher and recommend a repair plan. If you decide to go ahead with our pricing, we will cover the cost of the diagnosis. Otherwise, you will have to pay $89 for the inspection fee.
What is the average time that takes for a dishwasher refrigerator repair technician to arrive at Orlando, Florida?
Puls dishwasher technicians can get to your home in Orlando, FL on the same day. We assign local technicians that are near your homes.
Does your refrigerator repair services at Orlando, Florida come with a guarantee?
You will get a ninety-days guarantee on Puls dishwasher repair services in Orlando, FL. This ensures peace of mind and protects you from any costs arising from recurring faults.
Can Puls repair a dishwasher in Orlando, FL?
All dishwashers in Orlando, FL are welcome. Our local technicians can handle the repairs of all dishwashers, irrespective of the brand and model.
From our blog about dishwasher repair services