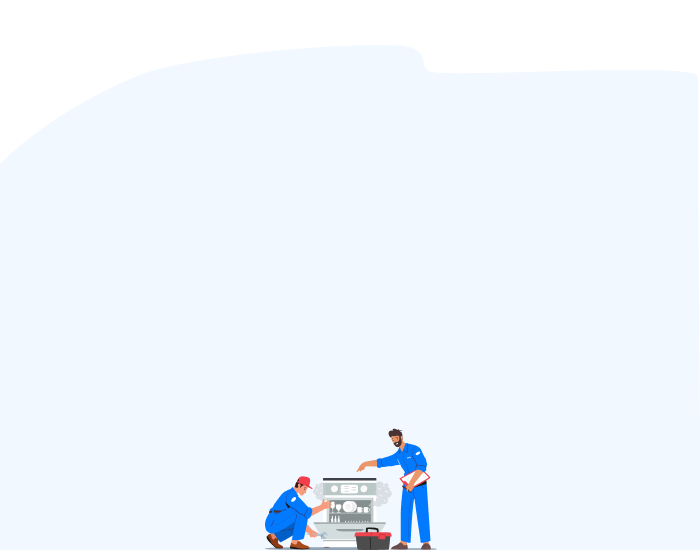 Dishwasher repair services in Dallas, TX
Enjoy easy online scheduling, and prompt service delivery within 24 hours. Our services save you time and energy!
Puls offers a 24/7 online scheduling policy for all dishwasher repairs in Dallas, TX. Don't wait till tomorrow, let us handle your repairs with ease. Our technicians offer seamless solution to all dishwasher repair problems in Dallas, TX.


Select the dishwasher issue we can help you with
Select the service you need, a suited timeslot and our technicians will be at your doorstep as early as today!
Client reviews in Dallas, TX
My technician went above and beyond to ensure my washing machine was operating properly. He was early, professional and very knowledgable. Thanks for the excellent service!
Laura R.
About Puls dishwasher repair in Dallas, TX

Dishwashers are one of the most important appliances in every home. Instead of going through the rigorous process of washing off every dirty plate, the dishwasher does it for you. Imagine when the dishwasher is malfunctioning or leaking water. This equals having spending more time to wash plates and having less time for other activities.

You shouldn't let it get to that, Puls can help you. We have well-vetted technicians that can expertly repair your faulty dishwasher. We start by diagnosing the issue, after which we repair or accordingly. This way you wouldn't have to worry about it anymore, Puls relieve you of that stress! What's more? We offer a 90-day guarantee on all our services and repairs.

Schedule an appointment for a same or next-day repair service.
We perform the following dishwasher repair services throughout the Dallas, TX area
We offer same-day or next-day appointments on all repairs in Dallas, TX.
Dishwasher repair deals in Dallas, TX
When next you need a routine repair, our expert technicians are here to help you out.
ENJOY
dishwasher repair
Book now
FAQ about dishwasher repair services in Dallas, Texas
Enjoy quality results on all repairs. No risk. No pressure.
How does dishwasher repair service with Puls work?
You should visit our contact us page to tell us about the issues with your dishwasher, and fix an appointment for dishwasher repair in Dallas, TX. We will dispatch a technician who can come to resolve the problem on the same day.
What is the average cost for dishwasher repair service in Dallas, Texas?
You will know the cost of repair in Dallas, TX when your assigned dishwasher technician diagnoses your faulty dishwasher and recommend a repair plan. If you decide to go ahead with the recommended plan, you will enjoy a free diagnosis. Otherwise, you will have to pay $89 for the inspection fee.
What is the average time that takes for a dishwasher refrigerator repair technician to arrive at Dallas, Texas?
A dishwasher technician can get to your home in Dallas, TX on the same day. We usually assign the closest technician to your home, who can get to work immediately.
Does your refrigerator repair services at Dallas, Texas come with a guarantee?
Our dishwasher repair service in Dallas, TX comes with a ninety-days guarantee. All our customers enjoy protection from recurring faults and any other issues
Can Puls repair a dishwasher in Dallas, TX?
Puls can repair all dishwasher models in Dallas, TX. Our technicians have the required expertise and experience to effectively deliver the best installation and repair solutions on dishwashers from major manufacturers.
From our blog about dishwasher repair services