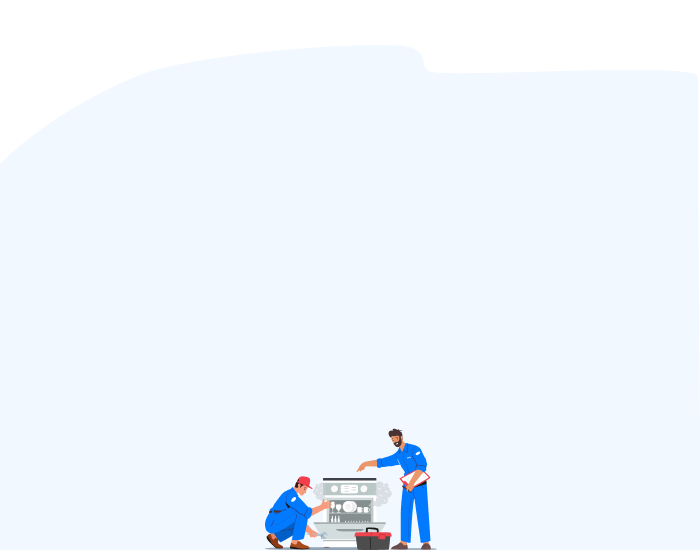 Dishwasher repair services in San Antonio, TX
Get the best repair service in San Antonio, TX. We have a team of local and professional technicians to handle your repairs.
Don't let your faulty dishwasher delay your kitchen chores. Puls can be there on the same day to diagnose and provide a working solution to your dishwasher. We can get it working today.


Select the dishwasher issue we can help you with
Select the service you need, a suited timeslot and our technicians will be at your doorstep as early as today!
Client reviews in San Antonio, TX
My technician went above and beyond to ensure my washing machine was operating properly. He was early, professional and very knowledgable. Thanks for the excellent service!
Laura R.
About Puls dishwasher repair in San Antonio, TX

Dishwashers save you a lot of time, energy, and strength. Imagine having to wash off every dirty utensil used all the time. No doubt, it could be time-intensive and draining. You wouldn't want to go through all that. However, if you have a faulty dishwasher then there's a possibility of that occurring. Puls is here to help you fix it as quickly as possible affording you ample time to focus on other activities.

Our services range from diagnosing the issue, to in-home estimates, and fixing the dishwasher accordingly. What's more? Our technicians are the best in the field. They are both experienced and knowledgeable in a different brands of dishwashers. Once we have handled your repair, you wouldn't have to worry about a faulty dishwasher for a long while.

Schedule an appointment for a same or next-day repair service.
We perform the following dishwasher repair services throughout the San Antonio, TX area
We prioritize convenient online scheduling, good customer service, and swift delivery on all repairs.
Dishwasher repair deals in San Antonio, TX
We arrive within hours to attend to all your needs.
ENJOY
dishwasher repair
Book now
FAQ about dishwasher repair services in San Antonio, Texas
When next you need an expert to check your faulty dishwasher, contact Puls for quality and efficient repairs.
How does dishwasher repair service with Puls work?
You can enjoy a quick fix on all your dishwasher with Puls. All you have to do is contact us through your website, explain the situation as best as you can, and schedule an appointment. We will be there as soon as today to fix it.
What is the average cost for dishwasher repair service in San Antonio, Texas?
The average cost of dishwasher repair in San Antonio, TX varies. It depends on the dishwasher, damage, and recommended repair plan. Our local technicians will inspect your dishwasher and recommend a repair plan. If you decide to go ahead with our recommendation, you will be exempted from diagnosis fees. But if you decline our repair plan and quote, you will have to pay $89.
What is the average time that takes for a dishwasher refrigerator repair technician to arrive at San Antonio, Texas?
We can get to your home in San Antonio, TX on the same day. Our local dishwasher technicians are just around the corner. They can come immediately to get the job done.
Does your refrigerator repair services at San Antonio, Texas come with a guarantee?
Puls dishwasher repair service in San Antonio, TX comes with a ninety-days guarantee. Our customers enjoy a guarantee on all repair services for ninety days after the repair is complete.
Can Puls repair a dishwasher in San Antonio, TX?
Our local technician in San Antonio, TX can repair home dishwashers from popular manufacturers including Bosch, Maytag, Whirlpool, LG, Kitchen Aid, Samsung, and Frigidaire.
From our blog about dishwasher repair services